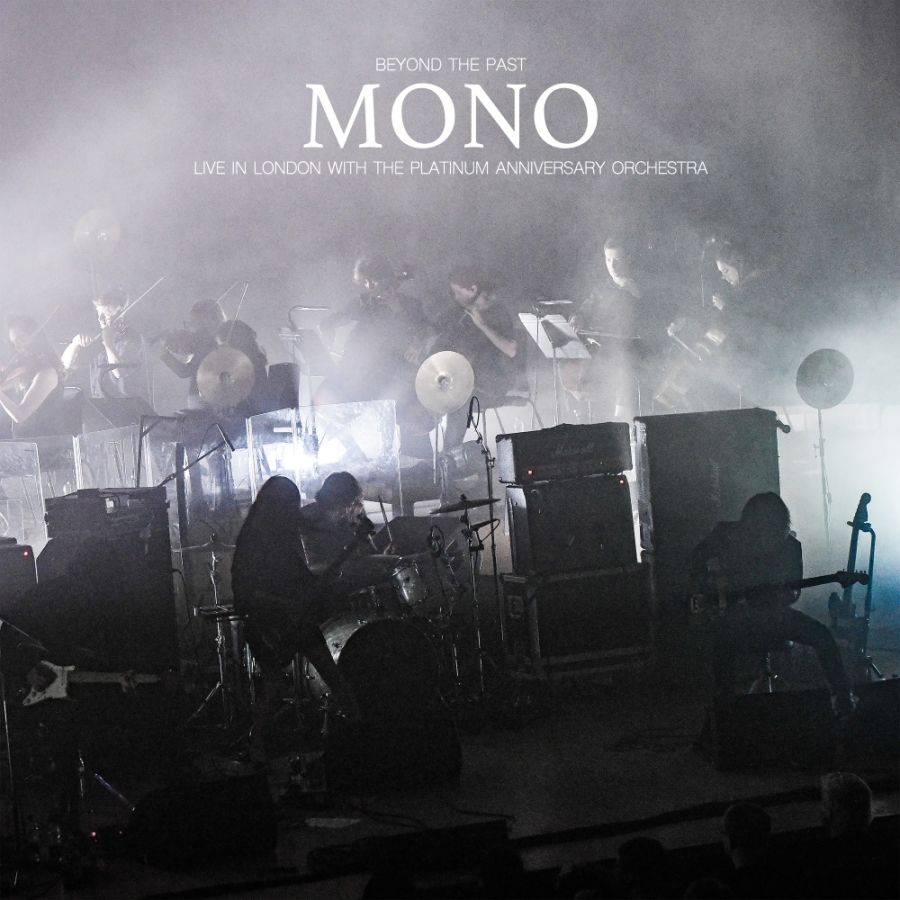 Mono
Beyond The Past
For two decades, MONO have de fined and re-fined a kind of orchestral rock that is as emo-tional as it is experimental. Their 10 studio al-bums over those 20 years have established MONO as what Pitchfork described as "one ofthe most distinctive bands of the 21st Centu-ry." Meanwhile, their live concerts are typicallymore subdued in instrumentation – and more supercharged in volume and voltage. Rarely is there the opportunity to combine those two experiences. In their 20-year history as a band, MONO have presented no more than a half-dozen live concerts featuring the support of an orchestra. Such events are not only un-usual – they are also unforgettable.
Beyond the Past • Live in London with the Platinum Anniversary Orchestra documents MONO's extraordinary performance from theBeyond the Past event that celebratedthe band's 20th anniversary, whichtook place at thehistoric Barbican Centre in London, England on December 14, 2019.For that once-in-a-life-time event, MONO selected a memorable lineup of old and new friends, including fellow Japa-nese underground icons, Boris and Envy, as well as Frenchpost-metallegends, Alcest, and UK collaborators A.A. Williams and Jo Quail. The event culminated with MONO performing with The Platinum Anniversary Orchestra, featuring National Youth String Orchestra to a rapt, sold-out audience of 2,000.
Playing through a two-hour set that touches on the band's entire history, the sheer euphoria anddynamic resonance that engulfed the massive crowdwas captured in brilliant detail by MONO's live sound engineer, Matt Cook. Meticulously mastered by Bob Weston and presented here in its entire two-hour glory, Beyond the Past is one of the most essential MONO recordings. Pack-aged in a triple gatefold with accompanying 40-page photo book, this is the rare document of anevent that is an event in and of itself.
CD
19. mar. 2021
Katalognr. PEL147CD
EAN 4059251420620
PPD 90,-
Vinyl
19. mar. 2021
Katalognr. PEL147LP
EAN 4059251385929
PPD 210,-
File under:
Metal
›
Post-metal
›
Pop/rock
›
Post rock
Sporliste:
1. God Bless (Live with the Platinum Anniversary Orchestra)
2. After You Comes the Flood (Live with the Platinum Anniversary Orchestra)
3. Breathe (Live with the Platinum Anniversary Orchestra)
4. Nowhere, Now Here (Live with the Platinum Anniversary Orchestra)
5. Death in Rebirth (Live with the Platinum Anniversary Orchestra)
6. Dream Odyssey (Live with the Platinum Anniversary Orchestra)
7. Sorrow (Live with the Platinum Anniversary Orchestra)
8. Meet Us Where the Night Ends (Live with the Platinum Anniversary Orchestra)
9. Halcyon (Beautiful Days) (Live with the Platinum Anniversary Orchestra)
10. Ashes in the Snow (Live with the Platinum Anniversary Orchestra)
11. Exit in Darkness (Live with the Platinum Anniversary Orchestra)
12. Com(?) (Live with the Platinum Anniversary Orchestra)