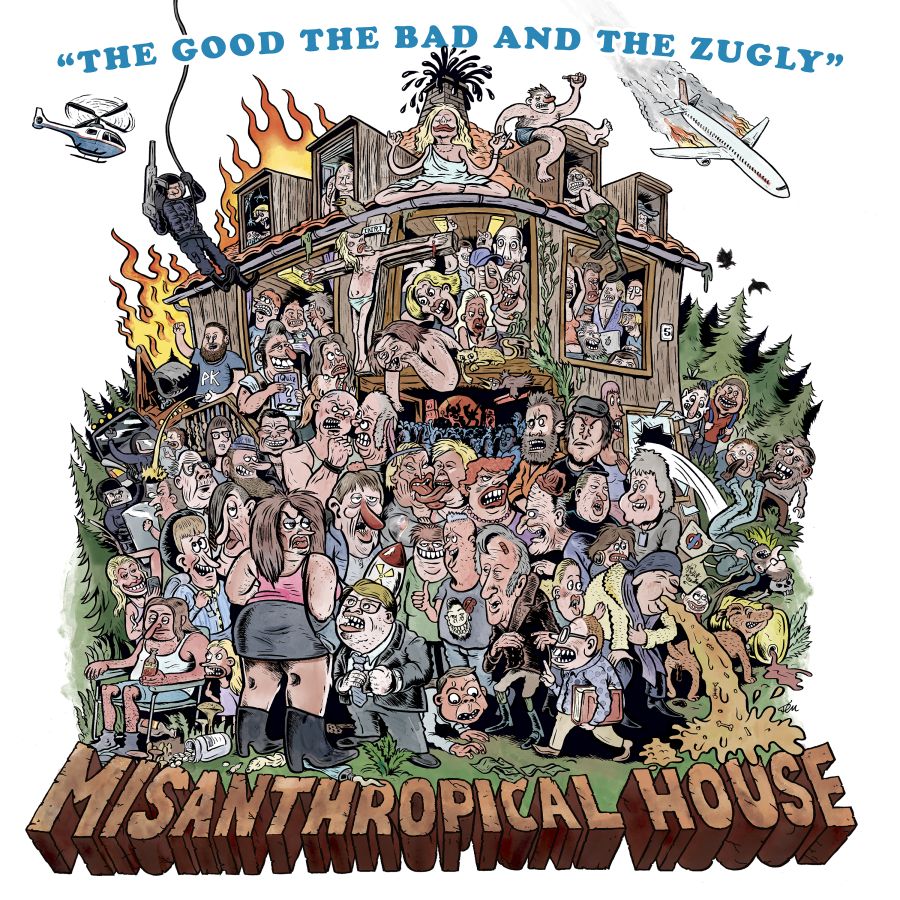 The Good The Bad and The Zugly
Misanthropical House
Misanthropical house, the Norwegian grammy winning third album from Norwegian Hadeland-hardcore act The Good The Bad and the Zugly is back on its 4th pressing, this time on recycled vinyl limited to 500x.
The band offers a little introduction to the album:
"Misanthropical House is a very emotional album. It reflects the the norwegian way of life and hodge-podge of values we share, most often taking the form of complaining and whining. GBZ want whining back in punk! You see, there's no end to the bodily decay we're facing as the band members are approaching middle age: Hemoroids, fungus, obesity, hairloss, moderate depressions and hangovers of course. What else can you expect? As if this wasn't enough, Little Steven, who accidently stumbled across the band playing at their local bar, Last Train, declared: "It's the worst band I've seen in Norway! No doubt! Probably the worst band in the world!" But GBZ smile nevertheless. A fake smile of course. But that's how the conservatives won the election in Norway, so no doubt, this will be a success! There is a lot of money and a lot of friends in fake smiles."
Recorded by the band themselves at Toproom Studio with technician Børge Finstad. Mixed and produced by Anders Nordengen at Nabolaget Studio. Mastered by Ruben Willem. Artwork by Flu Hartberg.
"Norse punks show the world how it should be done"
- Metal Hammer UK (Top 50 records of 2018)
"Filthy Norwegian hardcore punk'n'roll with refreshing "fuck you!" Attitude,"
- VISIONS Magazine (Top 25 records of 2018)
VG - 5/6
«Flere av låttitlene er i seg selv så gode at man kan lese dem som enkeltstående poesi"
Dagbladet - 5/6
"The Good The Bad & The Zuglys nye plate «Misanthropical House» er et lysende eksempel på at rock ikke trenger være spesielt komplisert eller original for å være relevant i 2018."
https://www.dagbladet.no/…/er-det-ikke-deilig-a-ha…/69400164

Ox-Magazine - 9/10
"Ganz, ganz großes Kino!"
Metaltone.dk - 5/6
"En af årets fedeste punk udgivelser i min bog.»
http://metaltone.dk/arkiver/1039
Gfrock.dk - 5/6
"The Good, The Bad and The Zugly er DEN omgang punkprygl med energisk rockindsprøjtning du har brug for lige nu."
http://www.gfrock.dk/the-good-the-bad-and-the-zugly-misant…/

Metal Hammer
"It´s fun, it´s dumb, and it´s brilliant!"
http://teamrock.com/…/the-good-the-bad-and-the-zugly-stream…

Natt&Dag
«Det går fortsatt i å drikke øl og ha vondt i rumpa. Heldigvis!»

Recycled Vinyl
Formats: Vinyl
09. Sep 2022
Label Fysisk Format
Cat.no. FY111LP
UPC 7041889505968
PPD 125,-
Tracklist:
1. H-Bomb
2. Mindlessness
3. Vik Bak Meg Satan
4. I Lied About Being A Hardcore Man
5. Ripe For The Grave
6. West Coast Exile
7. It's A Jungle Out There, In The Forest
8. International Asshole
9. WWID
10. I Need A Place To Drink
11. Sickness Unto Death
12. Going Nowhere Fast